Recommendations for New Books & Comics expected AUGUST 2022!
Posted by NEIL JOHNSON on
Here are the comics and graphic novels that caught our attention in this month's Previews!

To ensure that you get these books when they arrive, please call the store at 727-398-2665, or email our Books & New Comics Merchant at comics@emeraldcitycomics.com, to add these books, comics, and/or series to your in-store subscription!

Don't have a subscription? It's easy – sign up for at least three monthly comic book series, and stop by at least once a month to purchase them! Fill out a subscription form next time you're at EC!

From the Previews Catalog #405, JUNE 2022 (for books arriving mainly in AUGUST 2022)…

DC Comics:
https://www.lunardistribution.com
All other publishers:
https://www.previewsworld.com/catalog




LOVE EVERLASTING #1
IMAGE COMICS
(W) Tom King (A/CA) Elsa Charretier
From superstar award-winning creators TOM KING & ELSA CHARRETIER comes a new ONGOING SERIES set in a world as frighteningly fantastical as any found beyond the stars: Romance Comics! Joan Peterson discovers that she is trapped in an endless cycle-a problem to be solved, a man to marry-and every time she falls in love, she disappears into another teary saga. Her bloody journey to freedom starts in this breathtaking, groundbreaking FIRST ISSUE.
OLD DOG #1
IMAGE COMICS
(W/A/CA) Declan Shalvey
Jack Lynch was a once-promising CIA operative. On the eve of retirement, looking back at a failed career, he is tasked with one final mission...that goes horribly wrong. He wakes years later to a changed world and deeper changes within him. When a shadow group offers Lynch a second chance at a life of adventure, he's paired with the last person he could ever imagine. In order to adjust, this old dog will have to learn some new tricks...
OLD DOG is a striking new spy-fi series by DECLAN SHALVEY, the accomplished and innovative creator behind books such as Moon Knight, X-Men Unlimited, INJECTION, and TIME BEFORE TIME. The Winter Soldier meets Mission Impossible in this Bourne-esque action/espionage blowout.
20TH CENTURY MEN #1
IMAGE COMICS
(W) Deniz Camp (A/CA) S. Morian
EXTRA-LENGTH FIRST ISSUE!
At the end of the 20th century, superheroes, geniuses, madmen, and activists rush towards WWIII! A Soviet "iron" hero, a superpowered American president, an insane cyborg soldier, an Afghan woman hellbent on building a better life for her people-these strange yet familiar beings collide in a story that mixes history, politics, and comic book mythology into something totally new. Welcome to 20TH CENTURY MEN, where the edges of our reality and fiction touch, overlap...and then explode.
DEAD LUCKY #1
IMAGE COMICS
(W) Melissa Flores (A/CA) French Carlomagno
SERIES PREMIERE
San Francisco is changing. Tech consortium Morrow is building the city of the future with "peacekeeper" robots looming on every corner-and wherever Morrow isn't, the Salvation gang is.
Bibiana Lopez-Yang is changing too. She came back from Afghanistan with PTSD and the ability to control electrical currents. If she can hold it together, she might be the hero San Francisco needs. But against an enemy this big, it isn't enough to be good. She'll have to be lucky.
From debut writer MELISSA FLORES and superstar art team FRENCH CARLOMAGNO and MATTIA IACONO (RADIANT BLACK) comes the newest book in the MASSIVE-VERSE!
DEADLIEST BOUQUET #1
IMAGE COMICS
(W) Erica Schultz (A) Carola Borelli, Gab Contreras (CA) Adriana Melo
MINISERIES PREMIERE
Jasmine Hawthorn was a hard-edged Nazi hunter who trained her children well in the art of espionage. But in 1998, when her complicated past finally catches up with her, it's up to her three estranged daughters, Rose, Poppy, and Violet, to solve their mom's murder-if they can avoid killing each other in the process.
REVEALER #1
VAULT COMICS
(W) Tim Seeley, Michael Moreci (A) VARIOUS, Tim Seeley (CA) Steve Seeley
Spinning out of this summer's hit indie horror film REVEALER, these four stories tie directly into the movie! Learn more about the characters, the lore, the Revealers adult bookstore, and what awaits on the other side of the biblical apocalypse.
BLUE FLAME COMPLETE SERIES TP
VAULT COMICS
(W) Christopher Cantwell (A/CA) Adam Gorham
The Blue Flame is a cosmic hero. The Blue Flame is a DIY vigilante that fights crime on the streets of Milwaukee. The Blue Flame is a blue collar HVAC repairman named Sam Brausam. In the wake of a horrific tragedy, the boundaries of the Blue Flame's identity blur even further. Now, before a universal trial, the Blue Flame must prove that humanity is worth saving. But in order to do that, Sam Brausam has to save himself. Can he?
MAGIC: AJANI GOLDMANE #1
BOOM! STUDIOS
(W) Seanan McGuire (A) TBA (CA) Ariel Olivetti
This standalone tale introduces new readers to fan favorite planeswalker Ajani Goldmane, while delving into his past adventures and uncovering surprising revelations for the brave healer's current fans! But what happens when the steadfast, valiant protector faces threats beyond his capabilities?
MINOR THREATS #1
DARK HORSE COMICS
(W) lack, Jordan Blum (A/CA) Scott Hepburn
It's hard out there for a supervillain. Not the world conquerors, chaos engines, or arch-nemeses ... but the little guys. The ones who put on uniforms, knock over jewelry stores, and get tied to poles. And things are about to get worse. The psychotic Stickman has murdered Kid Dusk, sidekick to Twilight City's premier crime-fighter, the Insomniac. The Insomniac's teammates are tearing Twilight apart, turning it into a police state-desperate to capture Stickman and stop the Insomniac from 'crossing that final line' in which he may never come back from. Caught in the middle are the small-time c-list villains, finding it impossible to walk down the street without being harassed by these heroes. With a bounty on the Stickman's head, former villain Playtime decides to assemble a ragtag team of villains to take down the Stickman and kill him themselves.
SURVIVAL STREET #1
DARK HORSE COMICS
(W) James Asmus, Jim Festante (A/CA) Abylay Kussainov
Survival Street is a unrepentant action satire tearing through a dystopia packed with economic and humanistic cautionary tales.
After an unbridled wave of corporations take over America, the country is left completely deregulated and effectively carved up into feudal states where billionaires and businesses make their own laws. Among the wreckage, mass privatization shuts down public broadcasting, forcing all the beloved "edutainers" out on the down and dirty streets. One group of them stick together, determined to keep helping kids across the country and do it by becoming an A-Team-esque band of mercenaries fighting for (and educating!) kids in the crumbling, corporate war zone of New Best America.
James Asmus is the lead writer and five-time Harvey Award nominee currently writing Rick & Morty: Corporate Assets, Transformers/My Little Pony crossover miniseries, and more!
CONFABULATION AN ANECDOTAL AUTOBIOGRAPHY HC
DARK HORSE COMICS
(W/A/CA) Dave Gibbons
A comprehensive, in-depth, and personal journey through the eyes of one of the world's most famous comics creators! Presented as alphabetically chaptered memoirs, these extensive anecdotes cover a legendary life in comics, from working on Doctor Who and meeting Tom Baker to being inducted into the Eisner Hall of Fame. Gibbons also discusses, for the first time anywhere, the reasons why he and fellow Watchmen cocreator Alan Moore no longer speak. Packed with over 300 iconic, rarely seen, and unpublished art pieces and photographs, Confabulation: An Anecdotal Autobiography not only entertains, but peels back the layers of a fascinating career in comics.
Rarely seen and unpublished art and photographs from Dave Gibbons!
007 #1
DYNAMITE
(W) Phillip Kennedy Johnson (A) Marco Finnegan (CA) Tommy Lee Edwards
OO7 is back in action! After a high-stakes rescue mission is mysteriously, violently sabotaged, Bond's future at MI6 hangs in the balance. As he awaits his fate, James Bond is urgently contacted by an old flame and mentor: Gwendolyn Gann, formerly Agent OO3, who warns Bond of an existential threat to England and the global balance of power. But before they can meet, OO3 turns up dead, sending Bond on the most personal mission of his career: find Gwendolyn Gann's killers, and expose the shadowy organization known only as "Myrmidon."
LADY HEL #1
DYNAMITE
(W) Erik Burnham (A) Zhengis Tasbolatov (CA) Lucio Parrillo
She is the very personification of death - or at least she WAS. When we last saw Lady Hel, she was paying the price for messing with the half-demon, Purgatori. Now deposed, Lady Hel must find a way to seize back her throne. There's just one problem: she no longer has the power to do much more than exist. Meanwhile, what happens to the world when death is no longer a fact of life? It ain't pretty! Plus: where Lady Hel goes, can Lady Demon be far to follow?
JIMMYS LITTLE BASTARDS #1
AFTERSHOCK COMICS
(W) Garth Ennis (A) Russell Braun (CA) Andy Clarke
A new generation of Bastards is back and bolder than ever! A special 3-issue oversized prestige format mini-series from Jimmy's creators GARTH ENNIS and RUSS BRAUN!
After the shattering events of his last adventure, Jimmy is on extended leave from British Intelligence-sliding slowly into middle age, with carpet slippers, tragic sweater and cup of cocoa to match. The formerly sexist superspy is even reevaluating his attitude to women! His daughter (Don't say it! Don't you dare say it!) Nancy is taking up the slack in fine style, cutting a bloody swathe through the Regent rogues' gallery. But a mysterious message starts Jimmy looking into his family's murky past...where he finds a clue to a strange and deadly new danger. JIMMY'S LITTLE BASTARDS #1, by Garth Ennis and Russ Braun.
Written by Garth Ennis (A WALK THROUGH HELL, The Boys, Preacher) and illustrated by Russ Braun (Batman, Swamp Thing, Where Monsters Dwell), JIMMY'S LITTLE BASTARDS returns to a familiar world with a new spin.
SAMURAI DOGGY #1
AFTERSHOCK COMICS
(W) Chris Tex (A/CA) Santtos
During the Fourth War of the Sun, a small dog named DOGGY experienced an irreparable trauma: his mother was brutally murdered, and his eight brothers, still puppies, were kidnapped by a mysterious man. To save them, Doggy fought bravely against the terrible killer, but all his efforts were in vain, and he was left for dead. What nobody imagined was that a technological vulture scavenging the region for corpses would be the one to rescue the dying dog from death's scythe.
Now, Doggy has become Samurai Doggy, and his only goal is to quench his thirst for revenge.
Written by Chris Tex (BlackOut) and illustrated by Santtos (LAND OF THE LIVING GODS, BlackOut, Night Shift), SAMURAI DOGGY is a story of loss, revenge and the journey to defeat the greatest empire of machines and robots that has ever existed.
VINEYARD #1
AFTERSHOCK COMICS
(W) Brian Hawkins (A/CA) Sami Kivela
THE VINEYARD is a family-owned winery that sows and reaps by the blessing of the great god of wine and revelry, Dionysus. However, the Vines family's patron god requires complete devotion in the form of four sacrificial killings a year before each harvest. This has been done in unfettered obeisance. But all of that changed when the family's patriarch, Didache Vines, was in a horrible accident that left him paralyzed and in a wheelchair.
Now, the sacrificial and murderous duties of the Vines family have fallen to wife and matriarch, Maranatha Vines. With harvest season fast approaching and the family short of their annual sacrificial killings, Maranatha's struggle with her conscience puts all of her family - husband, son and daughter - in jeopardy.
Written by Brian Hawkins (Black Cotton, Believe in the Name, Don't Ever Blink) and illustrated by Sami Kivelä (THE HEATHENS, UNDONE BY BLOOD, Abbott), THE VINEYARD is what happens when family values and otherworldly obligations collide.
EMMETT (LESSER EVIL) #1
AWA
(W) Ian Grody (A) Li Yishan (CA) Carolina Rodriguez Fuenmayor
Welcome to Brooklyn Through the Looking Glass, where a golem with benefits, a spiraling genie, a demon who feeds on bad vibes, and a mischievous mermaid collide with heartbroken, hard-living, and hype-obsessed humans. Lesser Evils is a hilarious, pop culture-filled universe that explore what intimacy, spite, selflessness, and friendship mean today.
Episode 1: Emmett
Meet Lydia Loew, an artisan potter, who goes on a bender after a bad breakup. Then, in anguish and anger, she accidentally conjures up a golem from clay in her BUSHWICK studio. Enter EMMETT, a golem with benefits. He mixes a mean cocktail, is handy around the house, and will help Lydia exact revenge, with a vengeance.
SACRAMENT #1
AWA
(W) Peter Milligan (A/CA) Marcelo Frusin
The Exorcist meets Alien in this sci-fi/horror story. In the year 3000, Mankind abandoned Earth and fled into outer space.
Now, a disgraced priest, called into action to perform an exorcism on a remote space colony, is about to discover that no matter how far you run, you can't escape your demons, and the Devil is, in fact, real....
BATMAN DEAR DETECTIVE ONE SHOT
DC COMICS
(W/A/CA) Lee Bermejo
BERMEJO AND BATMAN: AN ICON DRAWS AN ICON. What happens when a comics art powerhouse meets one of the greatest, most exciting heroes of all time? One part prestige art book, one part compelling noir tale, this one-of-a-kind edition collects some of Lee Bermejo's most jaw-dropping Batman covers woven together to tell a story that strikes right at the heart of the Dark Knight's never-ending crusade.
SWORD OF AZRAEL #1
DC COMICS
(W) Dan Watters (A/CA) Nikola Cizmesija
THE WARRIOR ANGEL OF ST. DUMAS RETURNS! Jean-Paul Valley does not want to be Azrael ever again. All it has brought him is pain, violence, and misery. He has sequestered himself away at a monastery in Europe to find peace. But when a young woman who claims to have the same System programming that made Jean-Paul into Azrael arrives at the monastery, he won't have a choice but to don his violent mantle of Azrael once more to protect her from the deadly assassins who wish her harm. From the rising star creative team of Dan Watters (Arkham City: The Order of the World, Lucifer) and Nikola Cižmešija (Batman: Urban Legends, Future State: Gotham) this miniseries will redefine one of the Batman world's most iconic and fierce characters.
DCEASED WAR OF THE UNDEAD GODS #1
DC COMICS
(W) Tom Taylor (A) Trevor Hairsine, Andy Lanning (CA) Trevor Hairsine
What began as a battle for Earth has become a war for the galaxy as the epic final chapter in the massive DCeased franchise is here! The emergence of a reborn, undead Darkseid in DCeased: Dead Planet sets the stage for the most devastating conflict yet for Batman, Superman, and Wonder Woman! As the Anti-Life Equation spreads into the cosmos, the survivors of Earth prepare for the coming apocalypse and realize their only hope could lie in the most powerful surviving hero from the first DCeased series... The bestselling creative team of Tom Taylor and Trevor Hairsine return for their third and final installment in War of the Undead Gods!
OLYMPUS REBIRTH ONE SHOT
DC COMICS
(W) Becky Cloonan, Michael W. Conrad (A) Caitlin Yarsky (CA) Julian Totino Tedesco
After years of bitter and violent conflict, the Greek pantheon of gods stands united to welcome their latest goddess…Hippolyta of Themyscira! Due to her heroic efforts in the mortal realm, the former queen has earned her rightful place among the gods and plans to use her newfound powers to take care of her Amazon sisters from beyond. Little does she know, some of the gods are wary of the new future Hippolyta brings and will do just about anything to stop it! Join the Wonder Woman writing duo of Becky Cloonan and Michael W. Conrad—along with artist Caitlin Yarsky (Black Hammer) in her DC debut—for an unforgettable new adventure on Mount Olympus. It's only the beginning of many exciting things to come for Wonder Woman and her world!
NEW CHAMPION OF SHAZAM #1
DC COMICS
(W) Josie Campbell (A/CA) Evan Doc Shaner
Mary Bromfield has always struggled to determine who she is outside her family…kinda hard to do when you're all superheroes! Now, after Billy Batson's heroic sacrifice, the power of Shazam has vanished, and she's been left powerless. Most heroes would be distraught, but not Mary. It's finally time for a voyage of self-discovery as she prepares for her freshman year of college and a civilian life. But nothing is ever truly normal for this young hero, because she's just been chosen as the new champion of Shazam! (At least according to a talking rabbit sent by her estranged brother Billy.) Will she embrace the power? Or will it die along with this world's hope of survival against the mysterious magical forces waiting to take control? Find out in Mary's first solo miniseries, brought to you by up-and-coming comics writer Josie Campbell (Future State: Green Lantern) and fan-favorite Shazam artist Evan Doc Shaner (Strange Adventures, Convergence: Shazam!)!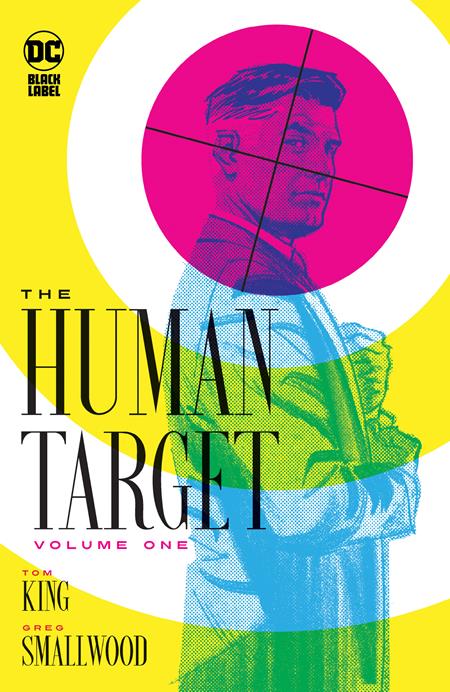 HUMAN TARGET HC BOOK 01
DC COMICS
(W) Tom King (A/CA) Greg Smallwood
Christopher Chance has made a living out of being a human target—a man hired to disguise himself as his client to invite would-be assassins to attempt his murder. He's had a remarkable career until his latest case protecting Lex Luthor, when things go sideways. An assassination attempt Chance didn't see coming leaves him vulnerable and left trying to solve his own murder...as he has 12 days to discover just who in the DCU hated Luthor enough to want him dead. Collects THE HUMAN TARGET #1-6.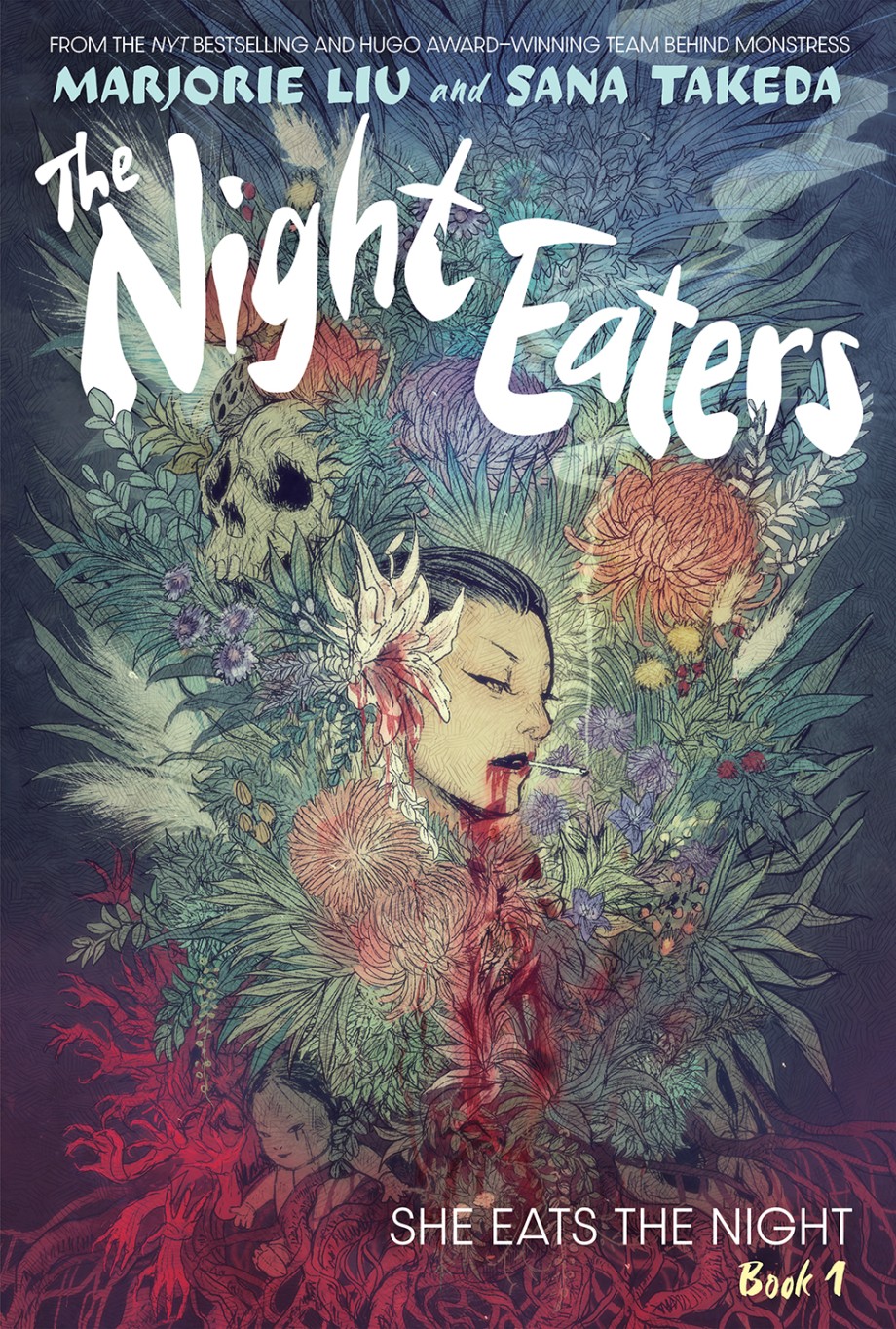 NIGHT EATERS GN VOL 01 SHE EATS AT NIGHT
ABRAMS COMICARTS
(W) Marjorie M. Liu (A/CA) Sana Takeda
The first volume in a new graphic novel horror trilogy from Marjorie Liu and Sana Takeda, the creative team behind the New York Times bestselling series Monstress. Chinese American twins, Milly and Billy, are having a tough time. On top of the multiple failures in their personal and professional lives, they're struggling to keep their restaurant afloat. Luckily their parents, Ipo and Keon, are in town for their annual visit. Having immigrated from Hong Kong before the twins were born, Ipo and Keon have supported their children through thick and thin and are ready to lend a hand-but they're starting to wonder, has their support made Milly and Billy incapable of standing on their own? When Ipo forces them to help her clean up the house next door - a hellish and run-down ruin that was the scene of a grisly murder-the twins are in for a nasty surprise. A night of terror, gore, and supernatural mayhem reveals that there is much more to Ipo and her children than meets the eye.
FANTASTIC FOUR FULL CIRCLE GN
ABRAMS COMICARTS
(W/A/CA) Alex Ross
It's a rainy night in Manhattan and not a creature is stirring except for... Ben Grimm. When an intruder suddenly appears inside the Baxter Building, the Fantastic Four-Mister Fantastic (Reed Richards), the Invisible Woman (Susan Storm Richards), the Human Torch (Johnny Storm), and the Thing (Ben Grimm)-find themselves surrounded by a swarm of invading parasites. These carrion creatures composed of Negative Energy come to Earth using a human host as a delivery system. But for what purpose? And who is behind this untimely invasion? The Fantastic Four have no choice but to journey into the Negative Zone, an alien universe composed entirely of anti-matter, risking not just their own lives but the fate of the cosmos! Fantastic Four: Full Circle is the first longform work written and illustrated by acclaimed artist Alex Ross, who revisits a classic Stan Lee-Jack Kirby story from the 1960s and introduces the storyline for a new generation of readers. With bold, vivid colors and his trademark visual storytelling, Ross takes Marvel's first team of super heroes to places only he can illustrate.
ADVENTUREGAME COMICS GN VOL 01 LEVIATHAN
AMULET BOOKS
(W/A/CA) Jason Shiga
Adventuregame Comics is a new series of interactive graphic novels in the vein of Jason Shiga's hit graphic novel Meanwhile. Readers follow the story from panel to panel using tubes that connect them, and sometimes the path will split, giving readers the chance to choose how the story unfolds. Leviathan is set in a medieval coastal village, where residents live in fear of a giant sea creature. Your goal as a reader is simple: defeat the Leviathan! As you wander through the open world, the town's backstory is revealed. You can attempt to visit the library to try and learn why the Leviathan destroyed it years ago. You can stop by the castle to discover the town was once riddled with crime and theft. If you're lucky, you may find your way to the old wizard who may possess the one thing that could keep the Leviathan at bay. But not everything is as it appears in this village. Can you discover the secrets and stop the Leviathan before it's too late?
UNOFFICIAL STUDIO GHIBLI COOKBOOK 50 DELICIOUS RECIPES HC
ULYSSES PRESS
(W) Jessica Yun
Since 1985, Studio Ghibli has enchanted moviegoers with fantastic stories of adventure, magic, friendship, family, and most of all-the most delicious-looking animated food. Now you can create your own mouthwatering dishes with this book full of 50 unofficial, fan-created recipes! From tantalizing breakfasts and lunches to Japanese favorites like yakitori and onigiri, this fun cookbook is perfect for fans of Japanese anime, manga, and comfort food cooking!
ROOSTER FIGHTER GN VOL 01
VIZ LLC
(W/A) Syu Sakuratani
The neighborhood cock of the walk is more than just an ordinary rooster – he's humanity's greatest defender! His opponents may be ten stories tall, but nothing is bigger than his stout heart and his fearsome, earth-shattering cry-cock-a-doodle-do!
---
Share this post
---
---